Lincoln is home to the University of Nebraska-Lincoln, one of the nation's leading Land-Grant institutions, a respected research University and the headquarters for Cooperative Extension with offices in nearly every Nebraska county. At the helm of this 150 year-old institution is Dr. Ronnie Green, a Western Virginia native who landed here in the mid-80's in pursuit of his Ph.D., met his wife and eventually returned to take the helm of UNL.
In this interview, Green not only shares a bit of personal history, he points with pride at the incredibly rich history of UNL, how the institution serves the people of Nebraska and serves as an international leader on several fronts. As our conversation unfolds, you'll gain a deeper understanding of the importance and value of a higher education and why Green is so proud to be part of the University of Nebraska.
About Lincoln

The people of Lincoln are genuine, friendly and care for one another. Plus, they have a good sense of who they are.
When we asked him to describe Lincoln, it was heartwarming to hear what he observed when he first arrived, when he returned after working in several different states, and how he feels about the city as his personal future unfolds.
Ask Green about the University of Nebraska-Lincoln Cooperative Extension Service and one thing he's sure to point out is the important role Extension folks played in helping Nebraska recover from the record setting flooding in 2019. Following a heavy rainy season in the early part of the year, nearly every county in Nebraska was impacted. University Extension not only helped with the recovery, but they engaged many students from the UNL campus in the recovery effort.
Another contribution that the University of Nebraska-Lincoln makes that has international ramifications, is feeding our ever growing population. Green addressed this challenge with his idea of how to handle it when he spoke at TEDxLincoln in 2016. You can watch that presentation here: https://youtu.be/OKNpguWW3Sk
As the interview closes, we asked Green for his desire for the city of Lincoln. You'll want to stay engaged to learn how he hopes to help Lincoln (and Nebraska for that matter) continue on a positive path into the future.
University of Nebraska-Lincoln

Our mission at UNL is educating the next generation. I get real joy knowing how the institution helps the State of Nebraska.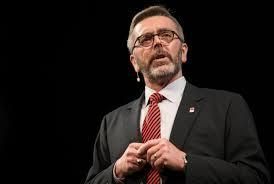 Visiting Across Nebraska

One of the coolest experiences I have had in the last few years was seeing how Lexington and Dawson County have recovered from economic challenges in the 80's. My wife Jane contributed to that recovery.

Recruiting Students

I'm proud of UNL's involvement with the Nebraska College Preparatory Academy and the work NCPA has done to help students prepare themselves for a college education.
One of his favorite tasks as Chancellor is to visit students on campus.

In this interview Green speaks a great deal about his family. He and Jane have 4 adult children.