How did a woman who grew up picking fruit from trees in rural Hawaii, end up as Marketing Director for a Professional Engineering Company with a home base in Lincoln, Nebraska?
Meet Miki Esposito. When we interviewed her for the Leadership Lincoln Podcast, she was Director of Lincoln's Department of Transportation and Utilities. In that position she was responsible for a multi-million dollar budget and a department that maintained the city's streets, transportation system, water system, wastewater system and solid waste management. Oh, and she had her fingers in Lincoln becoming a gigabit city.
Arrival in Midwest

I came to the Midwest on a college volleyball scholarship. That's where I met my husband. He's from Missouri.
Then, toward the end of 2019, Esposito accepted the position as Director of Marketing for Olsson, a Lincoln based, nationally recognized, employee-owned design firm. They have offices scattered from Arizona to Colorado to Arkansas and Iowa. The firm offers design and consulting services in planning and design, engineering, field services, environmental and technology.
But that still doesn't answer how she ended up in Lincoln. You'll have to listen to the interview and hear her tell the story. We promise, it's interesting and takes some unusual twists.
As to why she's stayed, we think one good reason is that she thinks the people of Lincoln have a strong sense of neighbor helping neighbor, a belief in respectful discourse and we're civil in our interactions with one another.
Lincoln is a Gigabit City

During her term as head of Transportation and Utilities, Esposito helped ensure that every home and business in Lincoln had access to high speed broadband, helping Lincoln become a "Gigabit City."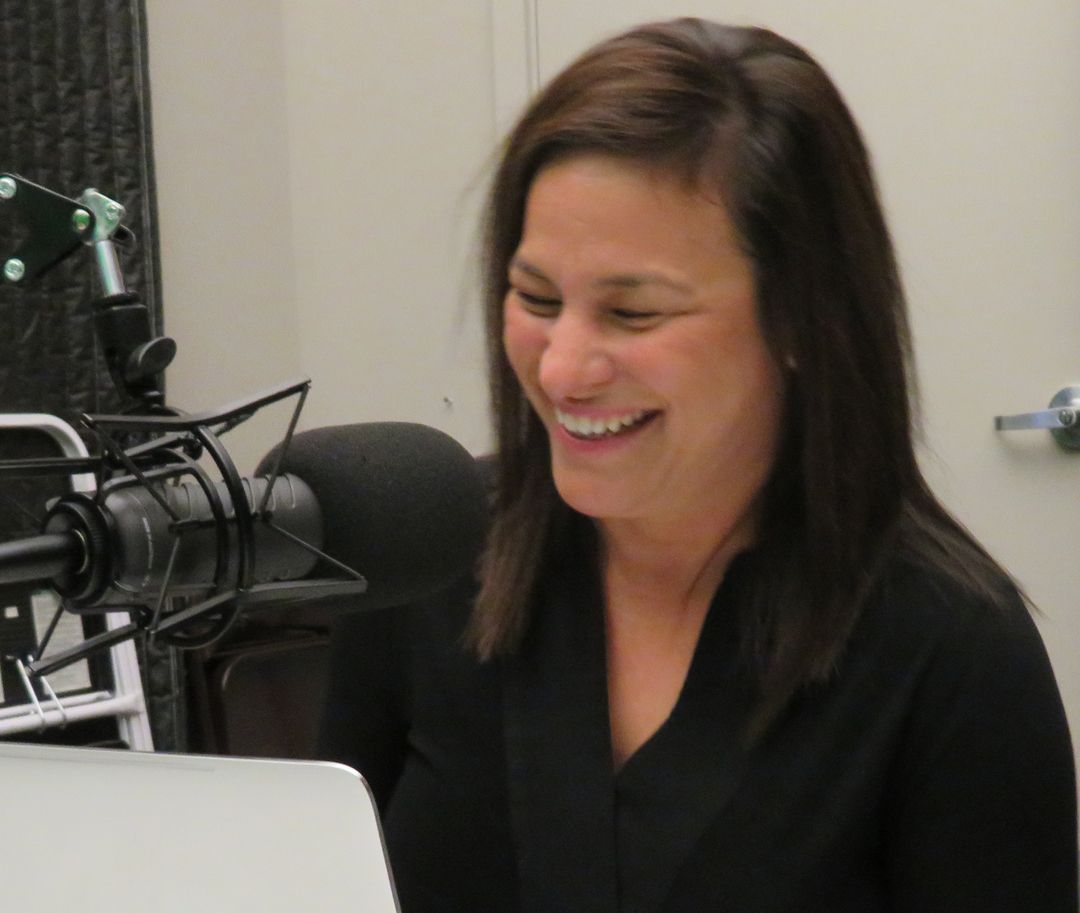 I Love Lincoln

Maybe it's because it's the capitol city. Maybe it's the Midwestern values of helping the neighbors. There's just this tradition of engagement with the public and government. There are so many people who are willing to roll up their sleeves and help.

A Leadership Secret

When I rely on people who have studied, explored and examined their professions, I can rely on the information they're bringing me. A good leader needs to be humble and realize it's OK to learn from others and their expertise.

Lincoln is Special Because

I have always admired Lincoln's strong sense of neighbor helping neighbor, respectful discourse, civility in our interactions. Lincoln's special because we're good at interacting with one another, and I want to keep that tradition going.
Miki and her husband Gary Greenwood on a recent vacation trip

Driverless Shuttle

During Esposito's time with the City of Lincoln, her Department helped promote a good look at driverless vehicles.

Miki's Sons

Grady and Gavin Greenwood