Community Crops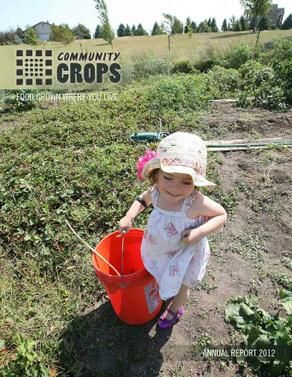 Contact Person:
Charles Mitchell
1551 S. 2nd St.
Lincoln, NE 68502
402-474-9802
charles@communitycrops.org
www.communitycrops.org
Current Volunteer Needs
Farm Assistants
Volunteers are needed throughout the year to help with various jobs related to the organic production of fruits and vegetables at our Beginning Farmer
Training Program
Our farm connects growers with CSA subscribers, farmers' markets, restaurants, and grocery stores in Lincoln, and volunteers are involved at every stage of the production process. Volunteers help plant, harvest, wash, and package produce during the season. They also work on minor maintenance projects, weed and care for planting beds, and keep tools and other resources clean and functional. This is a one-of-a-kind opportunity to learn about local, organic food production while also meeting and helping beginning farmers from all over the world.
Community Garden Activists
The CROPS garden program provides land and supplies to gardeners across Lincoln, but we rely on volunteers to shape each site into a unique community. Garden volunteers come from a wide range of backgrounds: some with gardening experience may plant or adopt a perennial bed, while others may want to paint a sign or a mural. Others may design educational materials or interactive stations at a site. We are especially seeking volunteers to simply collect coffee grounds and compostable kitchen scraps from neighborhood businesses and organizations. New project ideas are always welcome!
Promotional Assistants
Promotion Assistants are needed to help to spread the word about CROPS events (including Earth Day in April, Plant Sale in May, Garden Gala in June, Fundraiser in August, and the Farm Walk in September) and preferably help with staffing on the day that the event occurs. This volunteer will gain valuable experience in grassroots community networking, and will primarily be visiting and communicating with small business owners throughout the city on behalf of our program.
Sustainable Living Outreach Leaders
In an effort to supplement the current schedule of courses offered and taught by CROPS staff, we are seeking volunteers with practical sustainable living skills who might be interested in passing their knowledge on to others. These volunteers would design a one to two hour lecture or demonstration and present it to a group at site provided by CROPS. If you've got a creative idea for a fun and informative course on virtually any sustainable food production practice, this is a great chance to share it with your community.
Administrative Volunteers
If you're interested in learning how a busy non-profit works on a day-to-day basis, this is a great way to get in on the ground floor. CROPS is seeking Office Assistants to operate the front desk, including: greeting guests, directing questions, assisting with daily functions such as making copies, answering the phone and taking messages, entering data, mailing letters and other computer-related tasks. The volunteer may also assist with preparation for special events and workshops.